Having social anxiety.
As many of you know, I run events all around the country and coach hundreds globally.
At our last 'Let Go Of Anxiety' event in Taunton, a woman and her father came up to me at the end and said what a great event it was and how they had been left feeling impacted. I was thankful and happy for the lovely feedback.
The feedback had all been so great that we decided to take the event on the road and make it national. Four experts in one place with so many great techniques, tips and advice seemed like the perfect way to help people conquer anxiety.
Father and daughter.
The father and daughter stood around for a little longer and I could tell that the woman wanted to speak with me but struggled. Her father continued to explain that they were looking for social groups and activities for his daughter to be involved in and wondered if I could help.
I couldn't think of anything off the top of my head but I had their details and was happy to go away and think of something that would help. Of course, I wanted to find out a little bit more about the woman and exactly what she wanted to achieve.
Coffee time.
We met for a coffee after I emailed her a few times and discussed what I do and I soon realised that this woman would benefit from coaching, however, I gave it some thought and wondered whether it would be more beneficial for her to be given an instant opportunity to reach her goals rather than spend more money on therapy or coaching.
She wants to eventually help others. She has been suffering with social anxiety since the age of 4 and now at 27 she would love to help people.
Joanne didn't order a drink in the cafe we met in. I offered but she declined, sitting there with her coat still on, I tried to make her relaxed and comfortable so I could get a true understanding of her reality and dreams.
It's quite hard when you have social anxiety to actually start making the first steps forward in a new direction, especially if it involves speaking with new contacts and helping other people. Battling with the swirling emotions of fear, she still wants to help people because her life has improved drastically since going to talking therapy. Joanne explained how she would never have been able to meet me in a coffee shop a few years ago.
Meeting me for a coffee was her first step to creating change and I was thrilled to see she had written a speech.
Her speech.
I read her speech and decided to offer a slot to speak at our next 'Let Go Of Anxiety' event in Bristol on 2nd May 2018. I think she was happy with that. I questioned if she felt good about the thought of standing up in front of an audience for the first time to share her experiences and she said "yes, I will be nervous but it's something I need to do".
The girl who was unable to go to the supermarket had now just signed up to talk in front of a large crowd of people and I was so happy that I could give her that opportunity.
In a world where we rarely have any free time and get caught up in our own bubble, it truly pays off to take a little time out for others as you just never know what support you can give and how you'll make a difference in their life. I'm positive that Joanne will inspire many.
Since offering Joanne a slot at our Bristol event, she has also been invited along to talk at our Reading, London and Manchester events. I hope this has an even larger impact on her life than the Taunton event did that she attended. I have no doubt that Joanne's parents will be joining us and will sit their proud as they watch their daughter face her fears again.
people who have been 'through it' often have a much greater understanding and turn out to be the best helpers and mentors for others.
To attend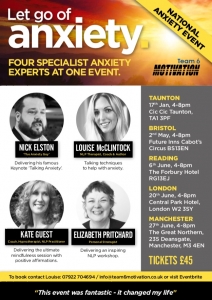 our Bristol event, click HERE
To attend our Reading event, click HERE
To attend our London event, click HERE
To attend our Manchester event, click HERE