Seminar & Event Speaker
Need an enthusiastic and inspirational speaker for your seminar or event?
With a passion and drive for telling her story and helping others, Louise delivers a great talk and has many topics she can cover for your seminar, conference or event.
People can relate to Louise as she can with others; keeping the audience engaged and inspired throughout.
Delivered in a down to earth manner with good humour and a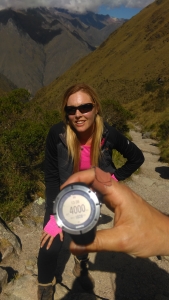 clear moral edge to each point, the audience will almost certainly be intrigued and left wanting to hear more.
A little bit about Louise's talks
Louise has delivered many talks to all ages and environments. As a business manager/director, she has a keen passion for increasing efficiency and productivity in the workplace with the great outlook she has on life and business. A keen sales person with a proven track record helps Louise deliver a clear message when it comes to goals, targets and achievements.
After many years of travelling and seeing the world, fundraising, setting challenges and exceeding expectations even in the face of adversity; there is something above and beyond all of this that adds to Louise's stories – her outlook. The talks have been described as 'thought-provoking' and the detailed stories of her challenges and the steps taken to overcome many hurdles are worth listening to.
As a life coach/CBT/NLP therapist, motivational leader/speaker and Business Manager/director, there is not an event too big or small for Louise; for as long as she is helping others and helping herself, she wants to speak to you.
Louise travels the world and can deliver her talks anywhere in the world with any culture in mind; so all you need to do, is click on the link below to contact us and give us some detail about your upcoming event and we will get the relevant details and costs over to you.
Topics Covered
Losing her eye and adapting to change
Grief and normality
Business development and personal growth
How people think and feel
How understanding people can help you in business
Sales – Where's your drive?
Resilience & Determination
Coach yourself to success