Sales – FREE Reach the top ebook
Download now this motivating ebook 'Sales – Reach the top'. Unleash your true potential
Product Description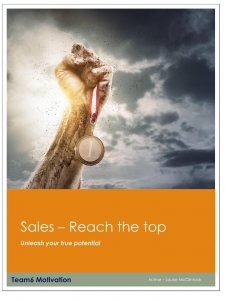 A gift to you this week only – this must read sales book has the fundamentals for reaching the top in your sales career.
A motivating and simple read that promotes an ethical working style over 12 A4 size pages. Buy now and receive your download link to this unique book that focuses on what key core strengths as a sales person, you should have.
No matter what level of sales background you have 'Sales – Reach the top' will apply to you.
Ever thought that you are doing everything possible to be the best sales person you can be?
Well… join the club of so many sales people out there that know they have something special and work very hard but yet feel they could be much better. Success is around the corner once you have read this book and adapted the simple rules of selling. Reach the top and unleash your true potential. A great and simple read which will motivate you to make real progress.
Every sales person knows that they are in sales because they have what it takes but it never hurts us, to remind ourselves of the key attributes and where to focus.
Closing deals is the easy part when you know how to sell successfully but don't just take our word for it! See our latest testimonial below:
"For 15 years I have worked in the sales environment, covering 6 different industries. I have read a lot of sales books, sat through many different sales courses where I have been taught what that particular company feels is the way forward. When going into sales and at many interviews over the years companies tell you what you want to hear, do this level of appointments and your earn more money than you can dream of. Some companies tell you to follow their guidelines and you'll be the most successful sales rep of all time. Managers want to fill job roles and then try to turn you into a robot. What this book does and what I find so inspiring is, this book whilst telling you the brutal truth that sales isn't just an easy route to earning good money but it spells out by doing some very simple tasks you can give yourself the best opportunity of being successful. It also shows that all of these tasks can be transferred across into any job role and will help you to be the best you can be. Having your own business plan, incorporating the businesses objectives and like the book says by being honest are by far, two of the most important bits of advice you can give to any sales rep. I honestly wish I had been given this book when I started out in sales and going forward, each and every one of the sales team that work underneath me now or in the future will be given this book. Truly a great read for anyone wanting to be successful and rise to the top"

Phil Iles, Sales Manager, Cheltenham